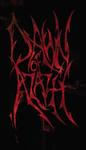 It's been one year since any news from our camp, so well overdue for an update. I should say first off that The Tides of Damocles- while being in my opinion our finest recorded effort, had very little input from myself musically. I'm immensely proud of what myself Joe and Jeremy created, however the future music that I wish to create has very little in common with the direction of our last album.
Therefore after their departure it made no sense to recruit new members and continue promoting "Tides.." when it was apparent that Dawn of Azazel from here on would be a very different beast. Better to write an entire new album, demo it, use this to select the appropriate new members and ensure that everyone involved was 100% heart and soul committed to that direction. Theres enough generic music coming out from bands who's only motivation is staying popular and who's only notion of staying relevant is releasing the same thing every 2-3 years. Best to wait till you have something to say of merit rather than to perpetuate this.
In April last year I set hard to work writing for several months before realizing I was rushing things for all the wrong reasons. Doing things right would require patience, discipline and lifestyle change. New music has been written, prospective new members have been sought out and when we have something that has feeling, savagery and aggression worthy of your time then you will hear from us again. This will be sooner rather than later.
R